DONATE NOW
Due to Covid-19, our offices are closed. We continue to grow our community through giving while working remotely.
POWESHIEK COUNTY ALLIANCE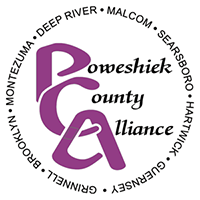 The Poweshiek County Alliance began in 2006 as part of the County Endowment Fund Program created by the Iowa State Legislature.  This legislation provided a portion of state gambling revenue be distributed to Iowa counties that do not have gambling entities.  The Poweshiek County Alliance combines this funding with the Community Fund for Poweshiek County and several other designated funds to distribute  grants each year to non-profit organizations that support the needs of Poweshiek County.
Since its inception, over $1.19 million has been granted to Poweshiek County non-profits, civic organizations and local governments to improve the lives of residents.
Poweshiek County Alliance Grants:
Poweshiek County Alliance seeks to fund projects that address the needs of Poweshiek County residents. Of particular interest are those providing cultural, educational, and recreational opportunities, as well as ones that enhance the safety, beauty, and economic vitality of the county.
Projects/programs are encouraged that will benefit more than one community in the county, and preference will be given to applications seeking matching funds, or to organizations seeking to collaborate with other local nonprofits.