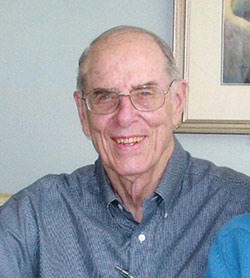 It is with great sadness that we announce the passing of Tom Marshall, 81, founder and past president of the Greater Poweshiek Community Foundation. Tom died yesterday in the Mayflower Health Center after battling colon cancer. Two of Tom's three children were with him and the third completed a visit just a few days ago.
Services for Tom will be Saturday, March 28th at 11:00am in the Herrick Chapel at Grinnell College. There will be no visitation, but there is a reception immediately after the service in the Quad at Main Hall, Grinnell College. A private family interment will be at the Oak Hill Cemetery, Cedar Rapids, Iowa.
In lieu of flowers, gifts in memory of Tom Marshall may be directed to The Tom and Connie Marshall Administrative Endowment Fund, Greater Poweshiek Community Foundation, PO Box 344, Grinnell, Iowa 50112.
Condolences may be sent to the family at:
Tom Marshall
c/o David Marshall
45 Marshall Street
Northampton, MA 01060
Funeral arrangements are being made with Smith Funeral Home, Grinnell and online condolences to the family may be sent via http://www.smithfh.com/obituaries.aspx